Home

Cardiac Science Powerheart AED G3 Plus - AED School Package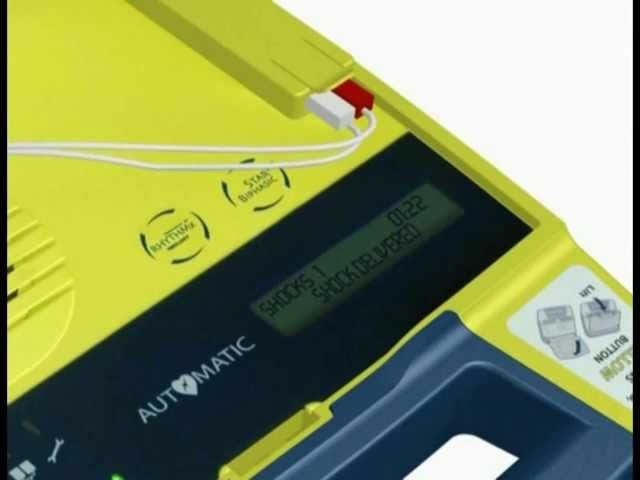 Cardiac Science Powerheart AED G3 Plus - AED School Package

Available in both automatic and semi-automatic models, the Cardiac Science PowerHeart G3 Plus AED is ideal for lay rescuers to use in public access defibrillation areas.
Features
RESCUE READY® technology

Self-checks all main AED components daily
Completes a partial charge of the high-voltage electronics weekly
Completes a full charge of the high-voltage electronics monthly

RescueCoach™ Prompting & CPR metronome

Clear on-screen text and voice prompts guide the user through the rescue process
CPR metronome keeps rescuer on pace to perform compressions accurately
Text screen also provides information to emergency medical professionals when they arrive

Non-polarized electrode pads

Two identical, non-polarized electrode pads can be placed at either location on the victim's chest.
One less step to worry about during a rescue

Escalating Energy levels

STAR biphasic technology calculates electrical impedance
Escalates energy to delivery therapy at an appropriate higher level should the patient require a second shock

IntelliSense battery

Communicates performance condition, age, storage temperature, and other vital information directly to your Powerheart G3
4 year warranty

Soft carry case included
7 year warranty
Options
Semi-automatic

One button operation
AED turns on when cover is lifted

Fully-automatic

No buttons to push
AED turns on when cover is lifted

Hard case
Professional Review:
There is a lot to like about the Cardiac Science G3. For starters, it has a proprietary feature called RescueCoachTM which provides clear voice and on-screen instructions to walk a user through the rescue process, as well as a metronome to keep the rescuer on time while providing CPR. It also has two non-polarized pads, which means there is one less thing a rescuer needs to think about. It uses Cardiac Science's proprietary STAR® biphasic technology to calculate electrical impedance of the patient and escalates the energy levels to deliver therapy at an appropriate higher level, should the patient require a second shock.
Reviewed by: 

Mike Carlin EMT
Alternate Part Number(s): 9390A-501, 9390A-501P, 9390E-501, 9390E-501P, 9300A-201, 9300A-501, 9300C-201, 9300E-201, 9300E-501, 9300A-201WP, 9300A-501WP, 9300C-201WP, 9300E-201WP, 9300E-501WP, 9390E-1001P, 9390A-1001P, 9390A-001, 9390A-101, 9390A-01, 9390E-001, 9390E-101, 9390E-01, 9390A-1001, 9390E-1001
What's Included:
Powerheart® AED G3 Plus with 7-Year Warranty
Two Sets of Adult Electrode Pads
Intellisense® Battery Pack with 4-Year Warranty
Quick Start Tool Kit CD: Training Demo/Unit Software
Soft Carry Case
FREE Premium AED/CPR Responder® Pack
FREE "AED Equipped" Window/Wall Decal
FREE AED Check® Tag
FREE Physician's Prescription
FREE UPS Shipping
We Have Over 10 Years of Experience in the Healthcare Field.